Big Heart Programme Objectives
Provide homely and conducive after-school care environment for students

Complement MOE in providing educational and developmental support to the students

Reach out to students from less privileged backgrounds and their families to provide holistic and family-centric assistance
Besides providing after-school care for our students, we run various programmes to meet our students' broad range of needs (social, emotional, recreational, physical, intellectual and creative) and provide learning assistance for those who require additional support. We also draw on the expertise and experience of the SHGs to develop holistic programmes for students from less privileged backgrounds.
Big Heart's holistic weekly programmes incorporate value-based learning and focus on virtues which are essential to our students' character building. The programmes align closely with the core values of the respective schools. Through these experiential and value-based programmes, students can gain skills and develop knowledge through seven main areas: core values and virtues, literacy, numeracy, aesthetics, S.T.E.M., physical and experiential learning.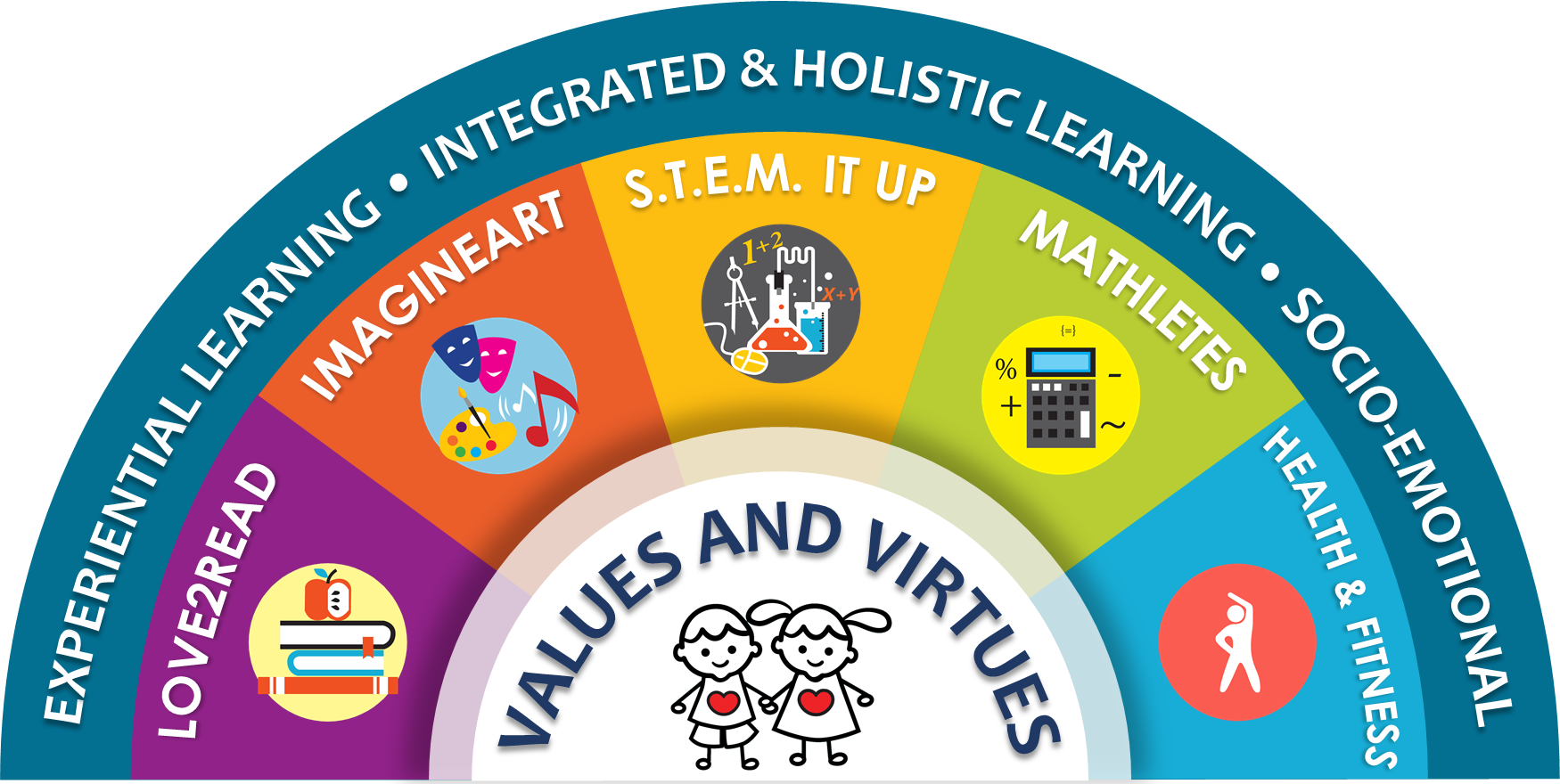 Values & Virtues
Good values and virtues are the hallmarks of a fine education and should be instilled in children from a young age. Using a little guidance and through leading by example, we can impart the core values of I.CARE (Integrity, Compassion, Adaptability, Responsibility and Excellence) and practise them during our "Let's Meet" sessions with the use of experiential learning and reflective thinking!

Love2Read
Literacy is not only a fundamental skill for lifelong learning but also the key to a world of incredible wonder for young children. Through lively reading sessions and fun language activities, pupils can improve their linguistic skill and vocabulary without it ever feeling like a chore. As they gain confidence and understand more they'll also discover how reading can ignite their thoughts and imagination!
S.T.E.M. It Up!
Children are natural scientists and, given the chance, will let their curiosity run wild. Big Heart gives them this chance to deepen their affinity for Science, Technology, Engineering & Mathematics (or S.T.E.M.) through educational games, activities with learning opportunities and computer-based learning. Our S.T.E.M. activities are designed to sharpen their visual-spatial intelligence, improve fine motor skills and give them the confidence to think innovatively and creatively.
Mathletes
Basic numeracy skills are important in everyday life and children naturally learn to count early in life. Whether it's working together to analyse and solve fun logic puzzles or playing financial literacy games, our pupils will develop a love for numbers which will then drive their interest to understand numerical concepts. It's as easy as 1-2-3!
ImagineArt
Creative juices get flowing during our ImagineArt sessions. Students can enhance their creative skills and learn to express themselves through different art forms  like visual arts, dance, music and drama. Our partnership with the National Arts Council (NAC) also allows for a wider variety of activities for the students.
Health & Fitness
Physical activity is crucial during a child's developmental phase if they are to grow up strong, healthy and happy, which is why we provide a variety of MOE-approved outdoor exercise activities. As in all our programmes, we use this as an opportunity to teach them honesty, teamwork, resilience and leadership in an effort to build good sportsmanship. The programme also reinforces healthy eating habits and lifestyle choices for an all-rounded approach.